"I was married by a judge. I should have asked for a jury".

July is the month of Fhina's Wedding Anniversary... This year shall be her twenty-third...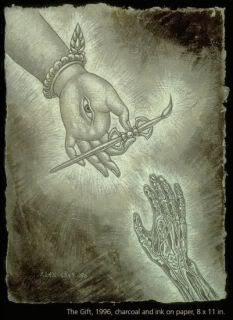 What's the gift for the Twenty-Third Wedding Anniversary, I wonder?
I just looked it up. There is no gift, so I could possibly wangle two gifts if I just add the Twentieth Anniversary gift, apparently an emerald...
(How come I missed that giftette??!), to the Third Wedding Anniversary Gift, which apparently could signify leather, or crystal or glass...
I love glass, me... I love emeralds... I wouldn't look so hot in leather pants, however! Or even pleather as one of my lovelies mentioned lately ; )
Lucky, plucky Fhina, non?!
Don't hold your breath, mes bloggy Bridesmaids! I'll be expecting to be jilted at the altar so he can avoid buying me a giftette until l8ers...
I'm over
HERE CLICKIE
today mes dahlinks! Please do stop by to say aujourd'hui? Mwah! Mwah! Mwah! Got ya!