Back to the wonder-walls of Chez Fhina... The veritable Palace that it is!
Are you surprised to find that I have this image in my home, with my spiritual home being la belle Paris, mes bloggy kittens?
I first saw this poster adorning my employer's bedroom wall in rural (very rural) Normandie... I loved it, and was intrigued by it. This was years before I was to live with a black cat and all his eccentricities...
Now, I will never be without this image, this sentinel, this icon, my virtual 'Familiar', as it were... Counterpoint to my White Witch aspirations.
La Wiki whispers in my shell-like: "Théophile Alexandre Steinlen, frequently referred to as just Steinlen (November 10, 1859 – December 13, 1923), was a Swiss-born French Art Nouveau painter and printmaker.
Born in Lausanne, Steinlen studied at the University of Lausanne before taking a job as a designer trainee at a textile mill in Mulhouse in eastern France. In his early twenties he was still developing his skills as a painter when he and his new wife were encouraged by the painter François Bocion to move to the artistic community in the Montmartre Quarter of Paris. Once there, Steinlen was befriended by the painter Adolphe Willette who introduced him to the artistic crowd at Le Chat Noir*** that led to his commissions to do poster art for the cabaret owner/entertainer, Aristide Bruant and other commercial enterprises.
His permanent home, Montmartre and its environs was a favorite subject throughout Steinlen's life and he often painted scenes of some of the harsher aspects of life in the area. In addition to paintings and drawings, he also did sculpture on a limited basis, most notably figures of cats that he had great affection for as seen in many of his paintings.
Théophile Steinlen died in 1923 in Paris and was laid to rest in the Cimetière Saint-Vincent in Montmartre. Today, his works can be found at many important museums around the world including at the Hermitage Museum in St. Petersburg, Russia. and the National Gallery of Art in Washington, D.C., United States."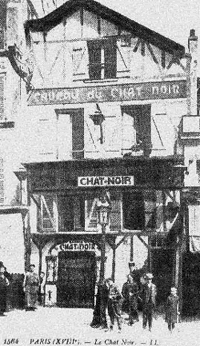 ***
Le Chat Noir
("The Black Cat") was a 19th-century cabaret in the bohemian Montmartre district of Paris. It opened on 18 November 1881 at 84 Boulevard Rouchechouart by the artist, Rodophe Salis, and closed in 1897 (much to the disappointment of Picasso and others who looked for it when they came to Paris for the Exposition in 1900)".