Today, I just want to complete the tale of Camille Claudel, artist, sculptress, Rodin's Muse, and one of my heroines, if that's okay with you?
Confession time here, I read literature and learned art history while at school, and wondered exactly what it took to be an artist's muse, his inspiration... I day-dreamed of becoming a muse, with no chance whatsoever of experiencing at first hand what it might feel like.
Well, I guess, the closest I came once, was meeting an artist in Cumbria. He was a friend of my OH's cousin, and worked part-time in industry, while earning part of his crust selling his paintings.
He was reasonably well established and his canvases were, well... Interesting.
Cumbria, you say' All those wind-whipped, fluffy sheep, the dramatic, rolling hills, the lush greenery, the cavernous lakes, the pendant mists...
This chap painted Mexican scenes: Men in colourful sombreros and multi-layered ponchos... Nice!
He got a glint in his eye when we were discussing Paul Klee and modern art, in fact, he finally got me to appreciate modern art, and that was some task, I can tell you!
It must have been my Viva Zapata moustachio he was interested in! Can't have been anything else!
Camille was able to break free of the shadow of the famous sculptor with her later works, influenced by Japanese art, and Art Nouveau, in particular, the onyx and bronze Wave (La Vague 1897) shows us a group of women figures, holding hands in a circle before the towering Tsunami style wave...
Similarly, Les Causeuses, is a tiny sculpture, showing a group of women, again in bronze, enrapt in conversation, oblivious to their surroundings, chattering and gossiping away, as only (perhaps) women and gay men can do!
However, from 1905 onwards, Camille began to exhibit odd behaviours, odd even for a Bohemian artist. She went on to destroy some of her art, send mischievous letters and drawings to Rodin and Rose Beuret, and I believe other important figures in the art world, perhaps also the press...
Camille became unreliable, she probably drank too much, as she likely attempted to self-medicate against the evils of the world as she perceived them... She continued to rattle around her workshop, accusing Rodin of stealing her ideas and of leading a conspiracy to kill her.
When Camille's beloved father, who had continued to bankroll her career, died in March 1913, she was not told of his death, and on 10 March 1913, she was admitted to a psychiatric hospital, under the signatures of her brother and a doctor. A later diagnosis of her ills, describes her suffering from, " a systematic persecution delirium mostly based upon false interpretations and imagination". (Wiki).
It may be that committing her to an asylum was the best thing for Camille; It may also have been a question of her socially aware and influential family finding it easier to have their vagabond genius child sequestered away, out of harm's way... as her brother's art, influence and position in French society grew Did Rodin himself have anything to do with her being hidden away from view? Who really can tell?
The facts remain that for a time, "the press accused her family of committing a sculptor of genius, and her mother forbade her to receive mail from anyone other than her brother. The hospital staff regularly proposed to her family that Claudel be released, but her mother adamantly refused each time. On 1 June 1920, her physician sent a letter advising her mother to try to reintegrate her daughter into the family environment. Nothing came of this".
In 1929 Jessie Lipscomb visited her, and her brother called in every few years...
Camille Claudel died on 19 October 1943, after having lived 30 years in the asylum at Montfavet without a visit from her mother or sister. Her body lies at Monfavet.
What remains is her very personal, intimate and spell-binding art.
You can see it yourself at the Musee Rodin (formerly Hotel Biron), in Paris. It is well worth a visit of a few hours, and the gardens of the house on a summer's day are very welcoming.
Rodin gave his studios for a museum to the state before his death, and continued to work there rent-free as a result. Camille may even have stayed with him there, I'm not certain without consulting the book I have about her, written in French by her relation... A great-grand-niece, or something of that ilk...
There is also a film of Camille's life - It is beautifully acted, with Isabelle Adjani and the inimitable Depardieu, not without its own fans, it also has its detractors, in terms of possible artistic licence. Once again, where are the experts? What is real, and what is fiction, when we talk about heroism and beauty?
One thing is certain, whatever the tragedy of her life, love and fate, Camille's art tells us all that we would ever wish to know about her...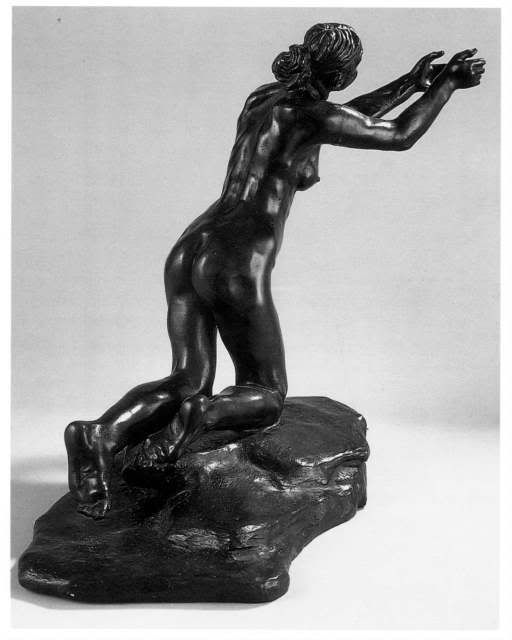 "My very dearest down on both knees before your beautiful body which I embrace." Letter from Rodin to Camille Claudel (end of 1884 - beginning of 1885).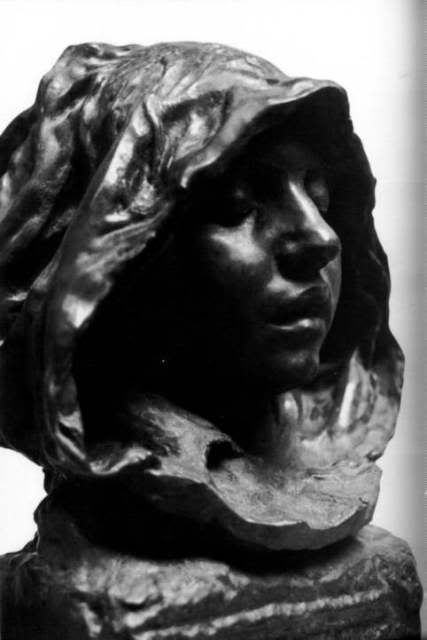 "A superb brow above magnificent eyes of that rare blue so seldom encountered outside the covers of a novel," Paul observed in 1951.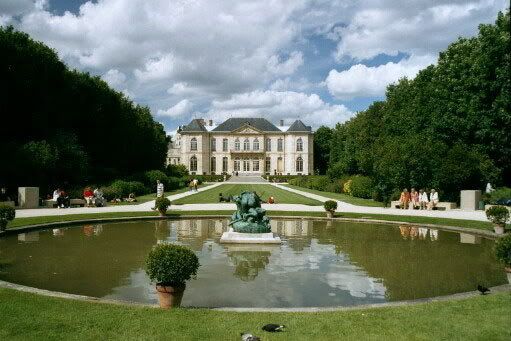 And Rodin wrote, "With regard to the Hôtel Biron, nothing is settled yet. The idea of including some sculptures by Mlle Say [a phonetic pseudonym for Camille Claudel, Mademoiselle C., based on the French pronunciation of "c"] would please me very much. This house is quite small and I don't know how the rooms will be arranged. There could be a few buildings for her and for me."
In Rodin's own words, "I invent nothing, I rediscover".
"The artist must create a spark before he can make a fire and before art is born, the artist must be ready to be consumed by the fire of his own creation".
"To the artist there is never anything ugly in nature".
And finally, while I was typing this on Monday, I experienced the serendipity of listening to Bette Midler on a UK TV chat show, singing Wind Beneath My Wings, with its lyrics, "Did you ever know that you're my hero..?"
So dedicated to all our heroes, I offer up a version of Bette singing that lovely song on her own show, "Bette". She is accompanied on the piano by the fabulously talented British actor, James Dreyfus.
The clip I saw of Bette might not ever make it to Youtube, so this might serve to raise a smile with you today - The quality is not great, but the sound is okay.
I hope you enjoy it after a couple of days of seriousness about all our heroes and heroines here!