Once again, mes braves, I am staying with the heroes and heroines in our lives thematic approach... This is Hera above.
The theme of what constitutes heroes and heroines, and who are our heroes, might be something I choose to return to from time to time... Hope you're okay with that? And my apologies in advance as this is a little long today, so I have decided to save half until tomorrow - The pictures, I think, make it appear longer, in any case...
It seems to me that in our history, we had some everyday heroes, such as Nelson, and perhaps Churchill - because the media and press weren't so much 'in our face' as they are today. It was easier to control the media then when there was less of it... When news and information, gossip and rumour, could not be found at the click of a mousie! At those points in history, it might have been easier to have held people closer to our hearts, to have plucked their image from a news sheet, and pasted it into an album, their thoughts and deeds keeping us warm on wintry evenings, simply because we didn't know all that there was to know about them...
Once we know their flaws, their Achilles' Heels - That they bite their toenails, for example, how easy is it then to hold their better deeds close to our hearts?
In this vein, I do not include those personal heroes, those who are known and much loved to us - The people I am loving you telling us about - Your mothers, fathers, brothers, sisters, courageous friends and wonderful acquaintances...
Back to the ramble - and wasn't it the proud and imperious Mr Darcy, channelled by Jane Austen, who said:
"My good opinion once lost, is lost forever... "
I quoted from Protege's comments yesterday, and do so once again today. She said, "Those who maintain...who can achieve what they wanted, whatever it is, just by keeping at it...it's so rare".
This could sum up my artistic heroine, Camille Claudel, almost entirely...
You may, or may not be aware, but Camille's story has been more or less hidden in the clay-spattered aprons of time... Perhaps her family wanted it that way... Camille was born, close to my own birthday in fact - I hadn't recalled that before now, on 8 December 1864, and was the older sister of the French poet and diplomat, Paul Claudel.
Camille was said to be entranced by stone and soil as a child... At this point, I'm dipping my head and entering the low stone portal of the Goddess Wiki, where else??! "as a young woman she studied with sculptor, Alfred Boucher. (At the time, the École des Beaux-Arts barred women from enrolling to study.)" Aah, did it now..., why am I not suprised?
"In 1882, Claudel rented a workshop with other young women, who were mostly English, including Jessie Lipscomb. In 1883, Camille met Auguste Rodin, who taught sculpture" to developing young talents in his studio in Paris.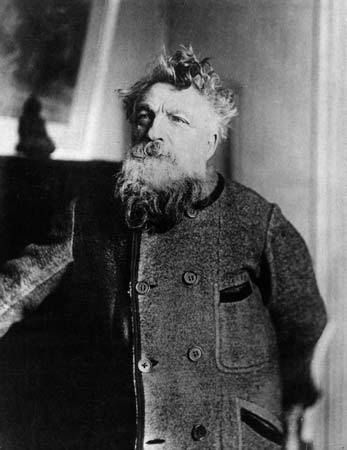 In or around 1884, Camille began to work alongside Rodin, learning from him and perhaps teaching him some things. ~ For years she merited his attentions, she was his muse, his confidante and his lover. Rodin, of course, was all this time married to Rose Beuret, mother of his son.
There are all kinds of rumours about Camille - That she had two children with Rodin. She had an accident in which she lost his child... She had to terminate a pregnancy of his child...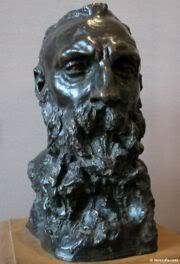 No-one can be certain, and records have been misted over with cobwebs and probably sources have been tampered with by well-meaning friends and relatives - Who among us really knows what passes between two lovers?
And wasn't it Charlotte Bronte herself who threw sister Emily's second novel into the flames of the fire in the parlour in Haworth?!
Camille's family never came to terms with her indiscretion, nor her love of a profession which was not entirely deemed seemly for one of her station in life... In 1892, Claudel ended her relationship with Rodin, although they saw one another regularly until 1898.
In 1903, she merited a headline exhibition at one of the famed Parisian salons... She was Rodin's muse, and influenced, to my mind, softened elements of his art and sculpture... She was a very talented sculptress in her own right; The famous art critic Octave Mirbeau wrote she was "A revolt against nature: a woman genius".
"Her early work is similar to Rodin's in spirit, but shows an imagination and lyricism quite her own, particularly in the famous Bronze Waltz (1893). The Age of Maturity (1900), whilst interpreted by her brother as a powerful allegory of her break with Rodin, with one figure The Implorer that was produced as an edition of its own, has also been interpreted in a less purely autobiographical" way, as a powerful testament to pain, suffering and longing. The lone figure outstretches her arms, beseeching someone out of vision to enfold her, to love her...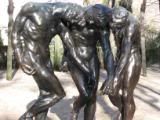 Camille came to Rodin's studio when he was working on the famous, Gates of Hell and The Burghers of Calais. She is probably the model used for the three female forms at the top of the gates. "The two artists had a mutual influence on one another; her Jeune Fille à la Gerbe of 1887 was a precursor of Rodin's Galatea, and the Three Female Fauns are the inspiration for the female figures Claudel's La Vague".