Thank you for all of your support to me during this week, following Grizz's tumble into potential dark chocolatedness, and also for the love and light you have directed to darling Braja, her husband, Jahnu and their driver who are currently recovering, thankfully, from their ordeal, in a hospital near Kolkata.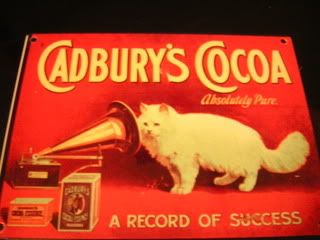 The world is getting smaller and smaller, mes bloggy chums, supported by our love and growing friendship and admiration shown and shared across our blogs, writings, and feelings, (Oh, my male followers are slipping away, whooooosh, there they go, apart from The Chairman, who is alleged to be addicted to chocolate aussi, according to Hay...! A woman who might have at least one portrait in the attic, according to Sir's latest posts, who knows?!)
Anyhoo, I am intent on sending you my love and best wishes, and as a little giftette, the portent of chocolate - Good old English choc, of course... (other chocolates are available, and Belgian chocolate is superior!), this is a very recent ad for Cadbury's Milk Chocolate. Here are the stars:
I love the quirkiness of this ad, the peculiar and indeed very endearing children, the music, the pink balloon - which appears out of nowhere - and indeed le chocolat itself. Well, why not?!
Please note that the trademark chocolate purple wrapper is alse evoked by the purple colour of the little girl's pinafore dress?
Enjoy, mes darlings, and have a great week to come, please, and look after yourselves do, and hug those around you - Don't hesitate... I promise you that the returns of spreading this 'rubber loving' shall not be lost to you... And, apres tous, Fhina herself shall be there to mop the melted choccie from your lips, I promise - None shall know our addictions and shared plaisirs...
...In case you did not know, Cadbury's Fingers are my real comfort food, and I would kill to protect them, but I am prepared to share them with you, for a price... Well, perhaps in return for your continued friendship and loving care!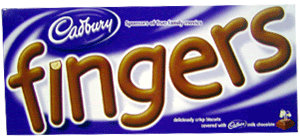 For those of you, who might be interested in more detail, this is the vid from the first of this series of Cadbury's Choc adverts.
This one featuring, as it does, a cute and clever gorilla, and music from Phil Collins...